Johnson is no stranger to the struggles of business, having filed for Replica Handbags UK bankruptcy in 2012, but to her it's all part of the ride. "It ain't hard when you love it," she deadpanned. "It's beautiful when you love it, and I still love it after 50 years. I still love it. I'm creative consultant for all my brands, so I kick them in the ass when they need to get a little more Replica Designer Handbags creative. It's great. It's just perfect. I've had a Cheap Watches UK perfectly wonderful, happy life."As for her plans for the Fake Watches UK awards ceremony, she'll attend with her family, including her daughter, Lulu, Hublot Replica UK and two granddaughters. "I'm going to drag my whole family on stage to cartwheel with me," she laughed about what she'll do when she accepts the Christian Louboutin Replica UK award. Just another thing to look forward to at the CFDA Awards ceremony on June 1.
While our bikes are usually made to order, we do try to keep a few bikes in stock for those who just can't wait. We often use these bikes to try out colors or parts packages and price them for less than the typical cost. It is possible to change out some parts to suit your preferences so give us a shout.
Mountain Goat Route 29 Frames: We had Sycip build us a batch of stock Route 29 frames to eliminate the 8-9 month wait. Right now, there are 2 each in 15", 17" and 19". We ordered the raw so you can choose your color but will be building a couple of them into complete bikes. 44mm head tubes, Tange/IRD sliders, 73mm threaded bottom bracket shells, stealth cable routing. Can be run geared or single speed. $1,750 with single color powder coat. Call for details.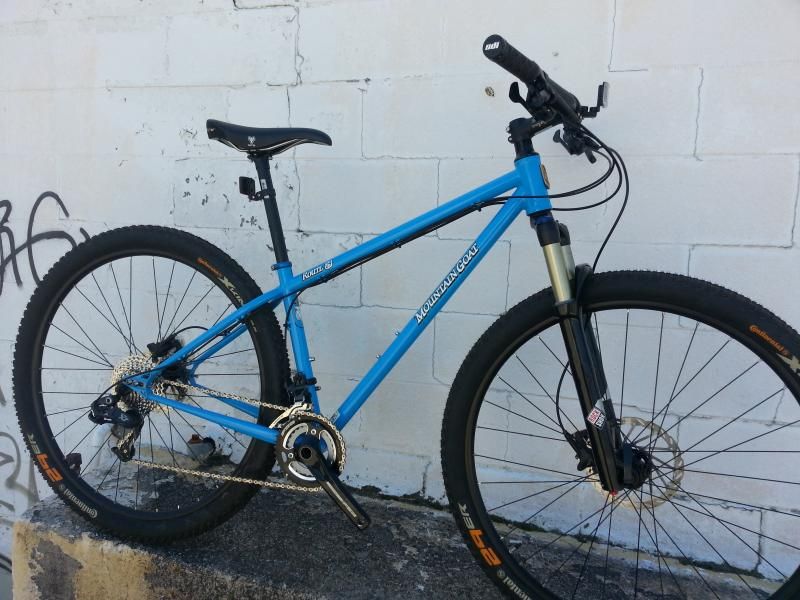 Mountain Goat Route 29 #47: Sycip built frame, IRD sliding drop outs, 44mm head tube, standard 16" frame, 100mm travel Rock Shox Recon Gold air fork, SRAM X5/X7 10 speed, FSA double crank, Salsa bar/stem/post, WTB saddle, Avid hydraulic brakes and Continental tires. Very solid useful build kit on a budget! $2,749.99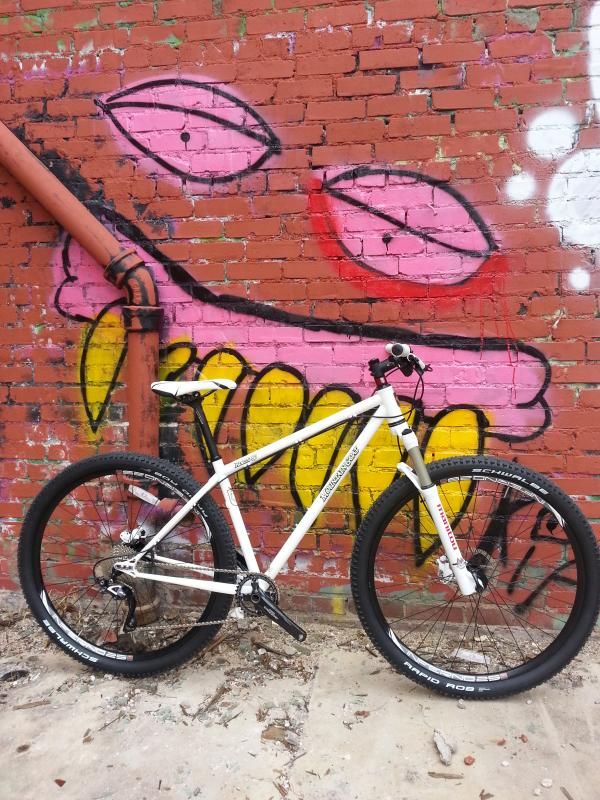 Mountain Goat Route 29 #49: Sycip built frame, IRD sliding drop outs, 44mm head tube, standard 17" frame, 100mm travel Manitou Tower air fork, Shimano SLX 10 speed, Deore crank with Race Face narrow wide ring, Bontrager bar/stem/post, Sun Inferno rims, Bontrager saddle, Avid hydraulic brakes and Schwalbe Rapid Rob tires. Very solid useful build kit on a budget! SOLD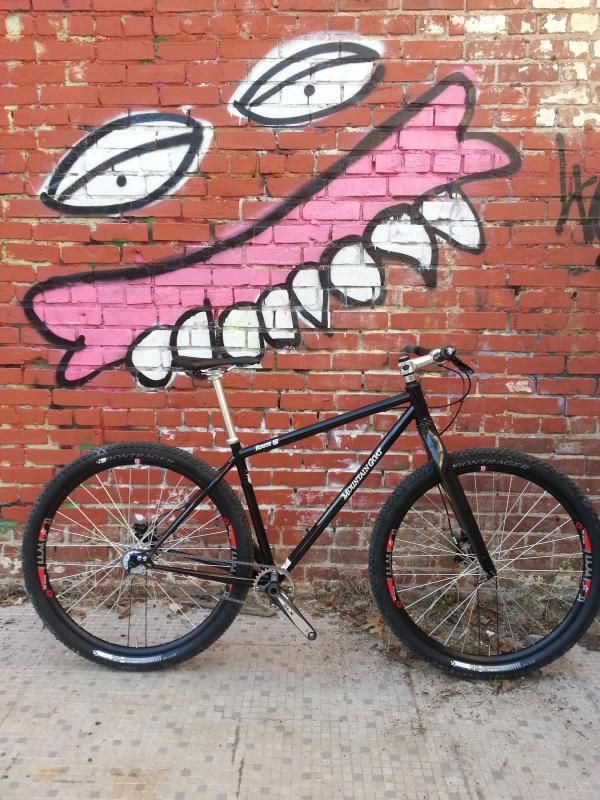 Mountain Goat Route 29 #51: Sycip built frame, IRD sliding drop outs, 44mm head tube, standard 19" frame, Whisky carbon fork, Thomson bar/stem/post/collar, Bontrager Evoke RL saddle, Shimano SLX crank, Surly SS ring, Industry 9 wheels, Avid XX hydraulic brakes and Bontrager tires. Very solid useful build kit on a budget! $4,499.99